Your Dress Shoes Need Some Vitamin D: Pairing Casual Clothing Style for Men & Men's Dressy Shoes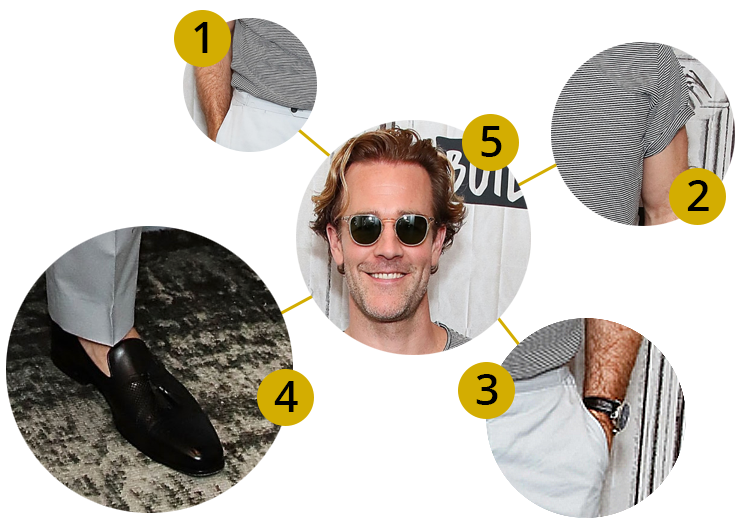 Go ahead and grab your dress shoes, we're taking them out for the day.

A good, quality pair of men's dressy shoes need not be hidden away in the dark corners of your closet, only to be brought out on special occasions. It's time to wear them into the light of day, even if it is just a coffee run.

Pairing formal dress shoes with a daytime look is easier than you think, as long as you follow a few solid guidelines.

Let's start with some inspiration.
Our man, James Vander Beek. Always on point. Always dressing the best.

Is James wearing chinos paired with Mark Chris Kingsman oxford style slipper, you ask?

He sure is.

By following a few basic style principles, you too can look like James Van Der Beek. Or at least you can have his style. Same.

Let's take a deeper dive and see how he pulls it off.
1. Lose the belt

Free your belt loops and lose the belt to opt for a more casual, sophisticated look when paring men's dressy shoes with a casual pant.  

2. A well-fitted shirt

Even a casual tee shirt can hold up to a dressier shoe, if it's properly fitted. Some detailing, such as the cuffed sleeve James is wearing, also helps tie together this formal/casual clothing style for men.


3. Match leather accessory colors

Pull the look together with a belt or leather wristband. The tone can vary, but the colors should match. Black shoes = black leather accessories. Keep it clean and unified.

4. Breaking down pant length

Whether you take your cuff to a slight break or take it all the way like James and opt for no cuff break (see how James' cuff just kisses his shoes) a well-fitted pant can make the look. A simple alteration won't set you back much, and will make you look like a million bucks in your chinos. 

5. Attitude

A cool pair of shades and a good attitude top off the look and up any casual clothing style for men. Shop James' shoe look now.
Shop James' shoe look now.