The Rock Debuts MC + Ilaria Urbinati Collab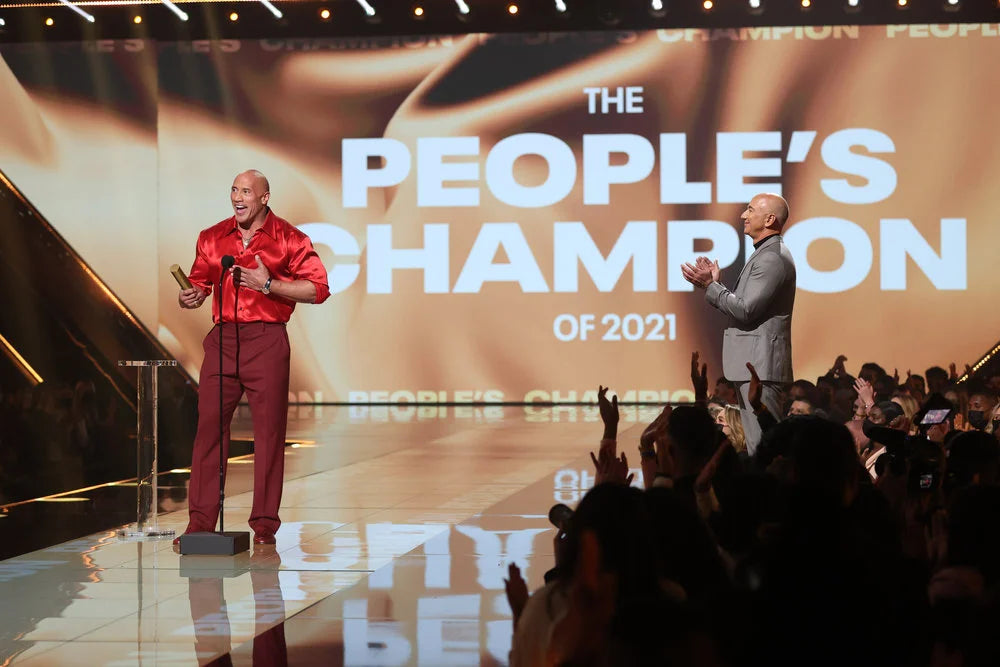 The People's Champion "Rocks" Mark Chris X Ilaria Urbinati
A ceremony for the people awarded by the people right with this year's people's Champion Dwayne The Rock Johnson an absolute world-class fashion DJ took to the stage to share a message of kindness, growth, perseverance, and overcoming obstacles.

Recognized for his contributions to society and for being a fan favorite who "transcends all demographics" The Rock took to the stage sharing memories of the early days as 'The Rock' and long admired the earlier People's Choice Award winner the Great Muhammad Ali, another world-class gentleman - a true Testament to embodying your Highest Potential and walking confidently into your future.
The Rock was the People's Champion long before the world realized it. He is the prime example of how your thoughts create your reality, and the power of will, intention, and purposeful action being a key driver behind our ethos.
Tuesday evening, The Rock shared his moment with the brave Shushana, a Make-a-Wish Survivor whose story inspired Dwayne so much that he invited her to share in the moment together as the people's champion and a champion of strength, perseverance,  overcoming, and belief. Truly an inspiring evening that aligned with everything we stand for.
From head-to-toe Dwayne "The Rock" Johnson stood out in style, grace, and presence, in an enigmatic fashion with Mark Chris forging his every step. Kicking off our long-awaited collaboration with Ilaria Urbinati, undoubtedly Hollywood's most notable tastemaker to the Stars and Founder of men's lifestyle website LEO @leoeditdaily (website: leoedit.com)
As an adolescent brand with ambitions to create the best product that to amplify values such as those shared with Dwayne, this evening meant a great deal to us, as we were able to be a part of the beautiful moments of shared values and true world-class embodiment.
Throughout the speech, Dwayne spoke about Muhammad Ali, his relationship to Jeff Bezos as both leaders, thinkers, and champions in their own right - an example that leaders create leaders. We align with that ethos and everything that happened tonight with conviction.
Whether you're very familiar with us or just becoming acquainted, we're proud to say this is the start of something beautiful and empowering, something to evolve and disrupt the world in which aesthetics can and seemingly overcome true depth, substance and purpose.
If you missed this night to remember, check it out here: 
Stay tuned for the upcoming formal release of our collaboration with Ilaria Urbinati coming 11.10.2022 - until then, and as always, walk with confidence.
Sizing Chart